Can't Take
the Texas Out of the Girl
A few recent stories about living in the Lone Star State
In my fourth decade in this state, I finally became a real Texan:
You Haven't Driven in Texas Until You've Driven a Pickup Truck
"When I first heard about this "car culture" issue, I knew what I wanted to write: an ode to my Honda Accord, which I'd driven across the country a half-dozen times. For 20 years, I've only ever owned a Honda sedan—one after the other, like a woman who keeps marrying and divorcing the same man. I think of those cars as trusty, no-drama companions that have carried me across fearsome interstates and rambling backroads. And my editor liked the pitch, but he had one small adjustment: Could I write about pickup trucks instead? But I'd never driven a truck, I started to respond, but then I realized that was the point."
Here's the portrait photographer Sean Fitzgerald took of me in Fair Park.
Aaaand here's the selfie I took of myself in Fair Park. (It was slightly windy.)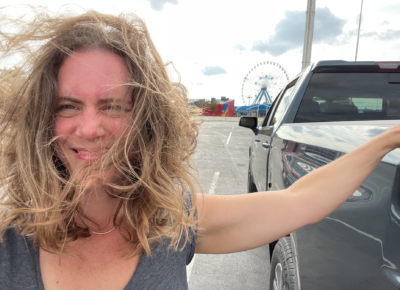 Long live zero-proof cocktails, aka virgin cocktails, aka mocktails, aka the ginormous and untapped market of tasty and nuanced drinks that don't have booze:
Sophisticated Non-Alcoholic Beverages Are on the Rise in Texas Bars
"In the decade since I quit drinking, something remarkable happened: The nonalcoholic beverage market exploded. In addition to flavored seltzers and surprisingly good nonalcoholic beer, botanicals, shrubs, and sophisticated elixirs have become increasingly available. This was driven in part by healthier lifestyles. At a time when organic, keto, and gluten-free have become common terms, younger generations seem much less enamored with getting hammered. Considering about 30% of American adults didn't drink at all in the past year, according to the National Institute on Alcohol Abuse and Alcoholism, acknowledging this demographic only makes sense. Big Booze has scrambled to take advantage of the nonalcoholic trend."
Like so many viewers on Netflix, I was captivated by the kids on Cheer, the docuseries about cheerleading at Navarro Junior College. Then, I got to know the town that they call home: 
How Corsicana Has Captured Hearts by Defying Small-Town Stereotypes:
I used to pass small towns and feel sorry for the people who lived in them. What could you do there? Who could you be? Much of modern life was such a race to be exceptional—the biggest house, the most followers—that I felt a hint of sadness staring at those rusty warehouses and abandoned shacks off the highways of rural Texas, a land that time forgot. But something happened as the technology age unfolded, with all its virtual bustle and ambient anxiety—and I became a woman who sniffed around small towns looking for a hit of what they had. A slow-pour pace, a sense of community, something called affordable rent.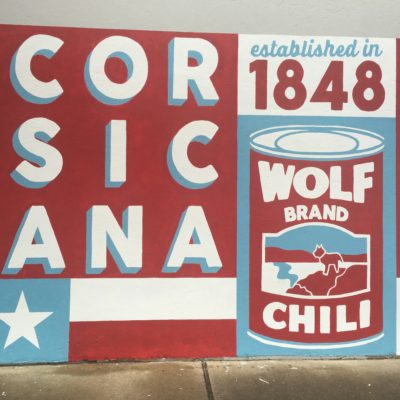 I went to an annual celebration of the 1969 Bonnie & Clyde movie in Pilot Point, Texas, which got me thinking about the duo's lost legacy in my own hometown: 
What Do We Really Know About Bonnie and Clyde
"The best way to characterize the relationship between Dallas and its notorious criminal duo would be to say there isn't one. No museum, no murals, and certainly no festivals commemorate the fact that two dirt-poor kids from the west side grew up to become a Romeo and Juliet for the "public enemy" age. The only official designation is a historical marker near Clyde's grave, in an Oak Cliff cemetery. But it's the gravestone's epitaph, written by Clyde, that tells the truer story. Etched in black granite are the words "Gone but not forgotten."